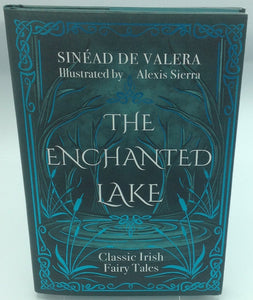 Sinéad de Valera's The Enchanted Lake weaves a world of magic like no other. From witches and mermaids to giants and princesses, this new edition, full of beautiful and colourful illustrations by the artist Alexis Sierra, brings together eight of her classic Irish Fairy Tales. Set in the Erin of old, these timeless tales are brimming with ancient charm, captivating characters and magical locales. The Enchanted Lake will transport the reader to a world of wonder and enchantment that will invite them back again and again
Sinéad de Valera was born in Balbriggan in 1879. She worked as a national school
teacher and taught Irish for the Gaelic League where she met her husband, Eamon de
Valera. She published some thirty titles, including The Four-Leafed Shamrock (1964),
The Emerald Ring and Other Irish Fairy Tales (1976) and The Miser's Gold (1970).