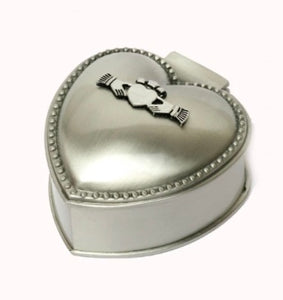 This charming heart-shaped jewellery box is made from Mullingar Pewter and embossed with a traditional Claddagh insignia, making it a wonderful gift and ideal for storing jewellery and trinkets.
The design is that of the Claddagh taken from the famous love symbol designed in the town of Claddagh, Co. Galway by Richard Joyce back in the year 1689. The design is often used for wedding rings as it is based on the ring that Richard made for his bride to be. The symbolisms are "hands for friendship", "heart for love" and "crown for loyalty".
The interior is lined with black velvet.